From Fashion to Food: Great Online Resources for Made in Italy Products
Disclosure: This post may contain affiliate links. If you purchase something via an affiliate link, I may receive a small commission—at no extra cost to you. A win for both of us! I only recommend products and services I trust.
"Made in Italy" is a brand that has become synonymous with luxury, quality, and style. From fashion to food and everything in between, Italian-made products have a reputation for being exceptional.
Online shopping has made it easier than ever to access a wide range of Made in Italy products from the comfort of your own home. Whether you're looking for the latest fashion trends, the finest Italian leather goods, or the most delicious gourmet treats, the options are endless. But with so many choices, it can be overwhelming to know where to start.
That's why I'm here to help.
In this article, we'll explore the wide range of Made in Italy products available online and I'll show you the many ways you can bring a touch of Italian elegance into your life.
The Popularity of Made in Italy Products
Made in Italy products have been popular for centuries, thanks to their reputation for quality craftsmanship. Today, the "Made in Italy" label is not a marketing gimmick but a symbol of excellence. Italian-made products are known for their attention to detail, use of high-quality materials, and commitment to traditional methods of production. (NB: Fendi's Hand-in-Hand Collection is a great example of this.)
The popularity of Made in Italy products is not limited to one specific industry. Italian craftsmanship is visible in a wide range of products, from fashion and food to beauty and home decor. Italian leather goods, in particular, have a long-standing reputation for being some of the best in the world. And with the rise of e-commerce, it's never been easier to access these exceptional products from anywhere in the world.
Fashion Products Made in Italy
Italy is one of the fashion capitals of the world. Italian designers are known worldwide for their ability to create timeless pieces that transcend trends and become wardrobe staples. From handcrafted leather bags and shoes to tailored suits and dresses, Italian fashion has produced some of the fashion world's most covetable products.
Here are just a few Italian designers whose names are famous worldwide:
Gucci: Founded by Guccio Gucci in 1921, Gucci is an iconic luxury brand known for its influential, innovative, and progressive approach to fashion.
Prada: Established in 1913 by Mario Prada, Prada is a high-end Italian fashion house specializing in luxury goods and recognized for its innovative designs and strong artistic approach.
Giorgio Armani: A globally renowned designer, Giorgio Armani founded his brand in 1975 and is known for his clean, tailored lines and high-quality materials.
Versace: Founded in 1978 by Gianni Versace, Versace is one of the world's leading international fashion design houses, celebrated for its opulent designs and vivid prints.
Valentino: Established in 1960 by Valentino Garavani, Valentino is known for its romantic, feminine designs that incorporate intricate embroidery, ruffles, and bows.
Dolce & Gabbana: Founded in 1985 by Domenico Dolce and Stefano Gabbana, Dolce & Gabbana is an Italian luxury fashion house known for its innovative and unconventional designs inspired by Italian culture and history.
Moschino: Founded by Franco Moschino in 1983, Moschino is a luxury Italian brand recognized for its playful, irreverent, and colorful designs that challenge conventional fashion norms.
Tod's: Established by Diego Della Valle in the early 1900s, Tod's is an Italian company best known for its high-quality shoes and leather goods, including the iconic "Gommino" driving shoe.
Furla: Founded in 1927, Furla is an Italian luxury company that specializes in the manufacture and retail of high-end accessories, notably bags, shoes, and small leather goods, combining traditional craftsmanship with innovative design.
Coccinelle: Established in 1978, Coccinelle is an Italian brand known for its stylish handbags and accessories, offering a combination of practicality, artisanal craftsmanship, and contemporary design.
Bottega Veneta: Founded in 1966, Bottega Veneta is a luxury Italian brand known for its leather goods.
Missoni: Established in 1953, Missoni is a high-end Italian fashion house renowned for its colorful knitwear designs and zigzag motifs.
Roberto Cavalli: Founded by Roberto Cavalli in the early 1970s, his eponymous brand is known for animal prints and a pioneering sand-blasted look for jeans.
Max Mara: Established in 1951 by Achille Maramotti, Max Mara is an Italian fashion business known for its timeless, elegant, ready-to-wear clothing.
Fendi: Founded in 1925, Fendi is a luxury fashion house in Rome renowned these days for its "Baguette" handbag, eyewear, and other accessories.
Salvatore Ferragamo: Salvatore Ferragamo was an Italian shoe designer known for innovative shoe design and glamorous styles that became iconic for Hollywood stars.
Emilio Pucci: Emilio Pucci was a fashion designer and politician known for his geometric prints in a kaleidoscope of colors, and the use of lightweight fabrics.
Brunello Cucinelli: Brunello Cucinelli is an Italian luxury creative director and the chief executive of his namesake brand, known for its premium quality cashmere products and commitment to ethical manufacturing practices.
Marni: Founded by Consuelo Castiglioni in 1994, Marni is an Italian luxury fashion label offering bold, quirky, and colorful designs with an artsy, eclectic flair.
Trussardi: Founded in 1911, Trussardi is an Italian fashion house, initially started as a glove manufacturer, now recognized for its leather goods and ready-to-wear collections, showcasing an elegant aesthetic.
Food Products Made in Italy
With the rise of online shopping, it's never been easier to access authentic Italian ingredients and gourmet treats.
Here is a delicious assortment of Italian food products that consumers often buy online:
Olive Oil: Extra-virgin olive oil from Italy is highly sought after for its rich flavor and health benefits. It is a staple in Italian cooking.
Pasta: Italian pasta comes in many shapes and sizes, from well-known types like spaghetti and penne to lesser-known types like paccheri and tuffoli.
Cheese: Italy produces many famous cheeses, including Parmigiano-Reggiano, Pecorino Romano, and Mozzarella di Bufala.
Wine: Italian wines, such as Chianti, Barolo, and Prosecco, are popular purchases for their unique regional characteristics.
Cured Meats: Italian cured meats, such as Prosciutto di Parma, Salami, and Mortadella, are enjoyed by many for their distinct, rich flavors.
Coffee: Italian brands like Lavazza and Illy are well known for their espresso and other coffee blends.
Vinegar: Balsamic vinegar from Modena, Italy, is a gourmet product used in a variety of dishes.
Truffles: Italian truffles are a luxurious item often used in high-end cooking, and truffle-infused products like oils and sauces are also popular.
Biscotti: These Italian cookies are a popular sweet treat often enjoyed with coffee or tea.
Cannoli Kits: For those who enjoy baking, kits to make cannoli, a Sicilian dessert, can be a fun purchase.
Risotto Rice: Italian Arborio or Carnaroli rice is commonly used to make creamy risotto, a classic Italian dish.
Beauty Products Made in Italy
Italian beauty products are known for their high-quality ingredients and luxurious formulations. From skincare to makeup, Italian beauty brands are some of the best in the world. Italian beauty products are made with natural ingredients like olive oil, aloe vera, and chamomile, which are known for their hydrating and nourishing properties.
One of the most iconic Italian beauty brands is Acqua di Parma. Founded in 1916 in Parma, Italy, the brand has become known for its fragrances, skincare, and shaving products. Another Italian beauty brand that has gained a cult following is Kiko Milano. Known for their affordable prices and high-quality formulations, Kiko Milano has become a favorite of beauty bloggers and makeup artists all over the world.
Home Decor and Furniture Made in Italy
Italian home decor and furniture are known for their elegant designs and high-quality materials. Italian designers are known for their ability to create pieces that are both functional and beautiful, combining form and function in a way that is uniquely Italian.
One of the most iconic Italian furniture brands is Poltrona Frau. Founded in Turin in 1912, the brand has become known for its leather furniture, which is handcrafted using traditional methods. Then there's Frette, a name synonymous with luxury bedding, which was founded in 1881.
But Italian home decor and furniture are not just limited to high-end, traditional luxury brands. There are many Italian designers who are creating beautiful and functional pieces for the home. Brands like Seletti, Alessi, and Kartell are known for their playful designs and use of bright colors.
Where to Buy "Made in Italy" Products Online
You don't have to go all the way to Italy to buy Made in Italy products—although we do recommend it! You can even save money by visiting designer outlets while in Italy.
Of course, with the rise of e-commerce, it's never been easier to buy Made in Italy products from anywhere in the world. There are many online retailers that specialize in Italian-made products, from high-end luxury brands to emerging designers.
Here are some of the best-known, most trustworthy marketplaces for Made in Italy goods and Italian brands. Keep in mind that I write primarily from a US perspective, so a lot of the online shopping I suggest is US-based. On the other hand, most everywhere ships worldwide these days if you're willing to pay a little extra.
Made in Italy on Amazon
Amazon's Made in Italy portal is a dedicated marketplace for products crafted by Italian artisans and small businesses. Here, you can find a wide range of items from clothing, shoes, and accessories, to home decor, gourmet foods, and more. The portal provides an easy way for customers worldwide to access Italian craftsmanship without leaving their homes
Bloomingdale's
Bloomingdale's offers a curated selection of Italian luxury brands that epitomize Italian fashion and style. From iconic fashion houses such as Gucci, Prada, and Fendi, to renowned homeware brands like Alessi and Bialetti, Bloomingdale's brings Italian sophistication directly to you.
Nordstrom
Nordstrom houses a plethora of Made in Italy products across multiple categories including apparel, shoes, and accessories. Known for their quality and commitment to customer service, Nordstrom offers a variety of Italian brands ranging from luxury designers like Versace to quality denim brands like AG Jeans.
Neiman Marcus
As a retailer known for luxury, Neiman Marcus offers a vast array of Italian brands. Whether you're searching for high fashion from brands like Dolce & Gabbana, or artisanal beauty products from Santa Maria Novella, Neiman Marcus provides a broad selection of Italian luxury.
Artemest
Artemest is an online marketplace that features handcrafted products from over 1,000 Italian artisans. This platform not only allows you to shop for unique, high-quality items ranging from furniture and lighting to jewelry and home décor, but also gives you a glimpse into the world of the artisans themselves.
Italist
Italist offers direct-to-consumer Italian luxury goods. By sourcing products directly from Italy's finest retailers, Italist allows you to shop the latest collections from over 1,000 Italian brands at prices significantly lower than other online luxury retailers.
Artisaly
Artisaly is a platform dedicated to promoting Italian artisans and their creations. Offering everything from handcrafted leather goods to artisanal food products, Artisaly allows you to support small businesses while experiencing the quality and tradition of Italian craftsmanship
Etsy
Etsy provides a vast marketplace for handmade and vintage items, including products from talented Italian artisans. From handmade ceramics to custom jewelry and unique clothing items, Etsy is a treasure trove for those seeking unique, Made in Italy pieces.
For Italian soccer gear, Amazon.it offers a wide range of products including jerseys, scarves, and balls from popular teams like Juventus and AC Milan. If you're in the US, you can also find Italian soccer gear on Amazon.com, Fanatics.com, and Soccer.com. These platforms offer a broad selection of gear from Serie A, (Italy's top soccer league) and the national team, making it easy for fans to support their favorite teams and players.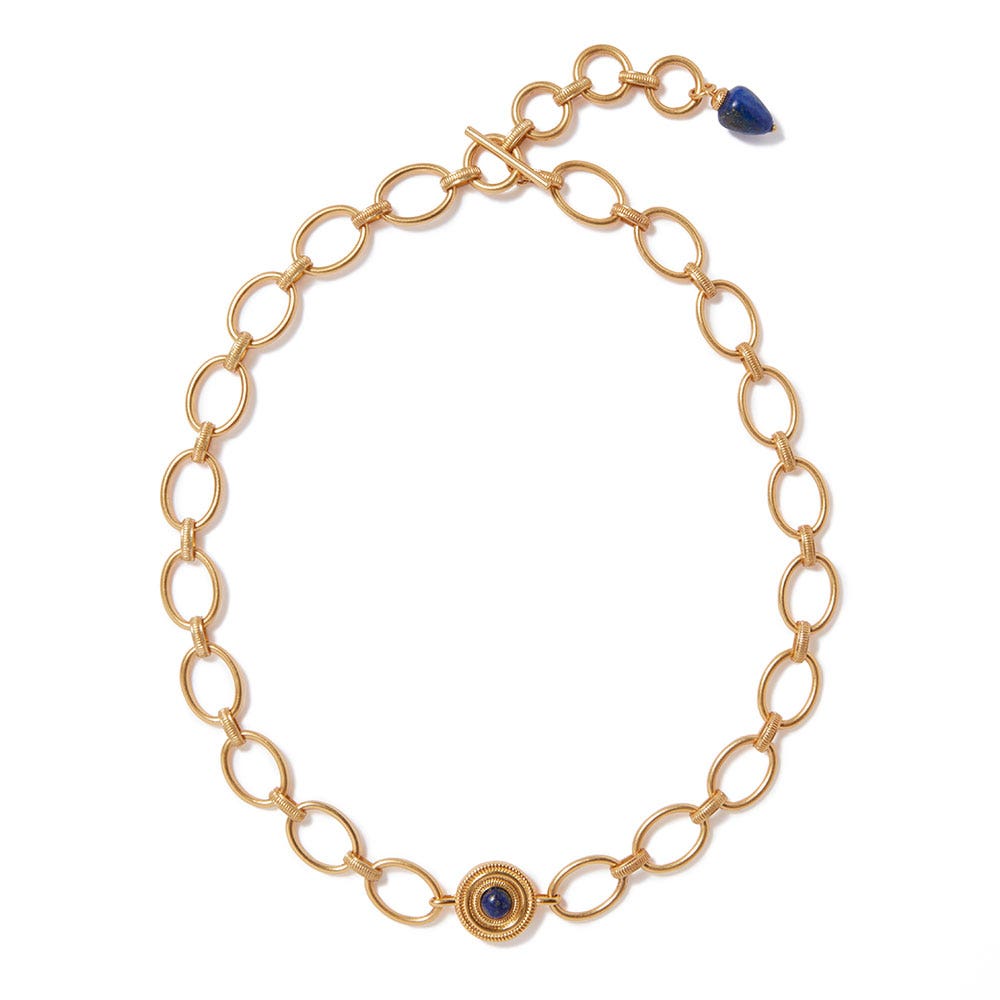 Etruscan Lapis Chain Necklace
Unique jewelry is the ideal gift for her. Embellished with lapis, our timeless necklace is modeled after a pair of stunning gold earrings (4th century B. C.) in The Met collection, which feature amphora-shaped pendants enclosed in a ring. In the region of Italy now known as Tuscany, Etruscan civilization flourished between the 7th and 4th centuries B. C. The wealthy, cosmopolitan, and luxury-loving Etruscans developed some of the finest gold, silver, and bronze jewelry of the ancient world. Due to the natural elements in this jewelry, the color of the stones may vary.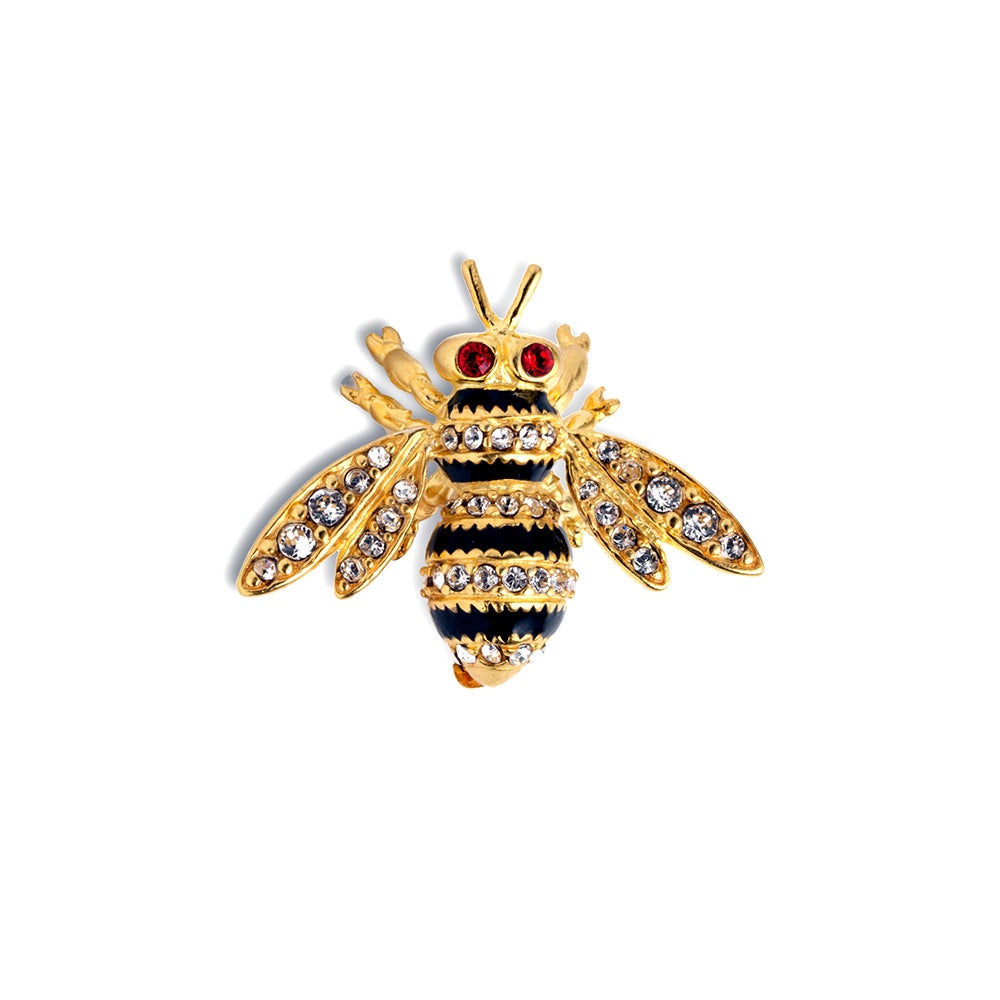 Jeweled Bee Brooch
This charming brooch in lightly antiqued, 24K gold plate is adorned with enamel and Swarovski® crystals. It celebrates Cornflowers and Buttercups (ca. 1900) by Peter Carl Fabergé (Russian, 1846-1920). Featuring a bee perched atop a golden bouquet of buttercups, the exquisite confection is crafted in gold, enamel, rose diamonds, and rubies; its vase and "water" are carved from rock crystal. A visionary artisan and jeweler, Fabergé counted the Russian imperial family among his firm's elite clientele. Both Empress Alexandra Feodorovna and her sister, Queen Alexandra of Great Britain, were charmed by Fabergé's flower creations. Produced in cooperation with the British Royal Collection.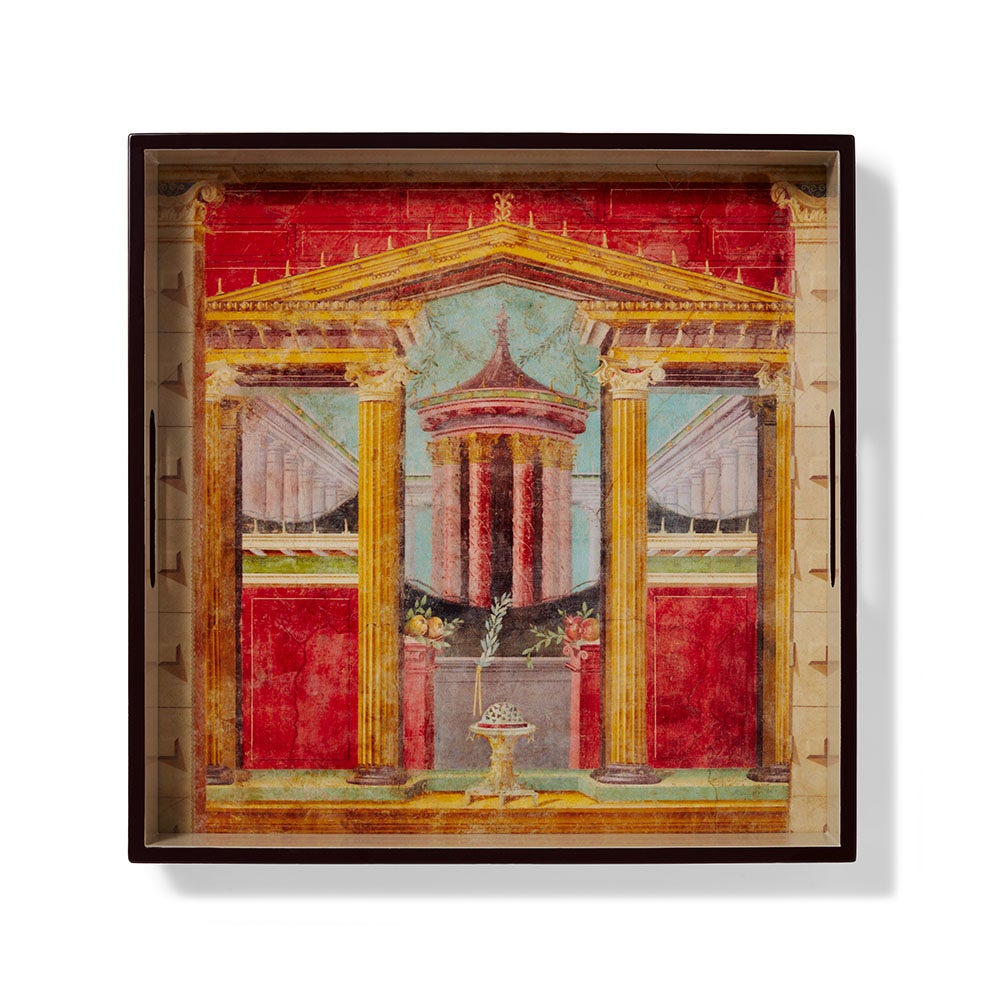 Boscoreale Fresco Wood Lacquer Tray
The image reproduced on our tray is borrowed from a Roman fresco created around 50-40 B. C. in the Neapolitan villa of P. Fannius Synistor, which was buried by the eruption of Mount Vesuvius in A. D. 79. The bedroom, where the painting was originally located, is faithfully reconstructed at The Met. Each wall is decorated with colorful grotto scenes and architectural vistas in the so-called Second Style.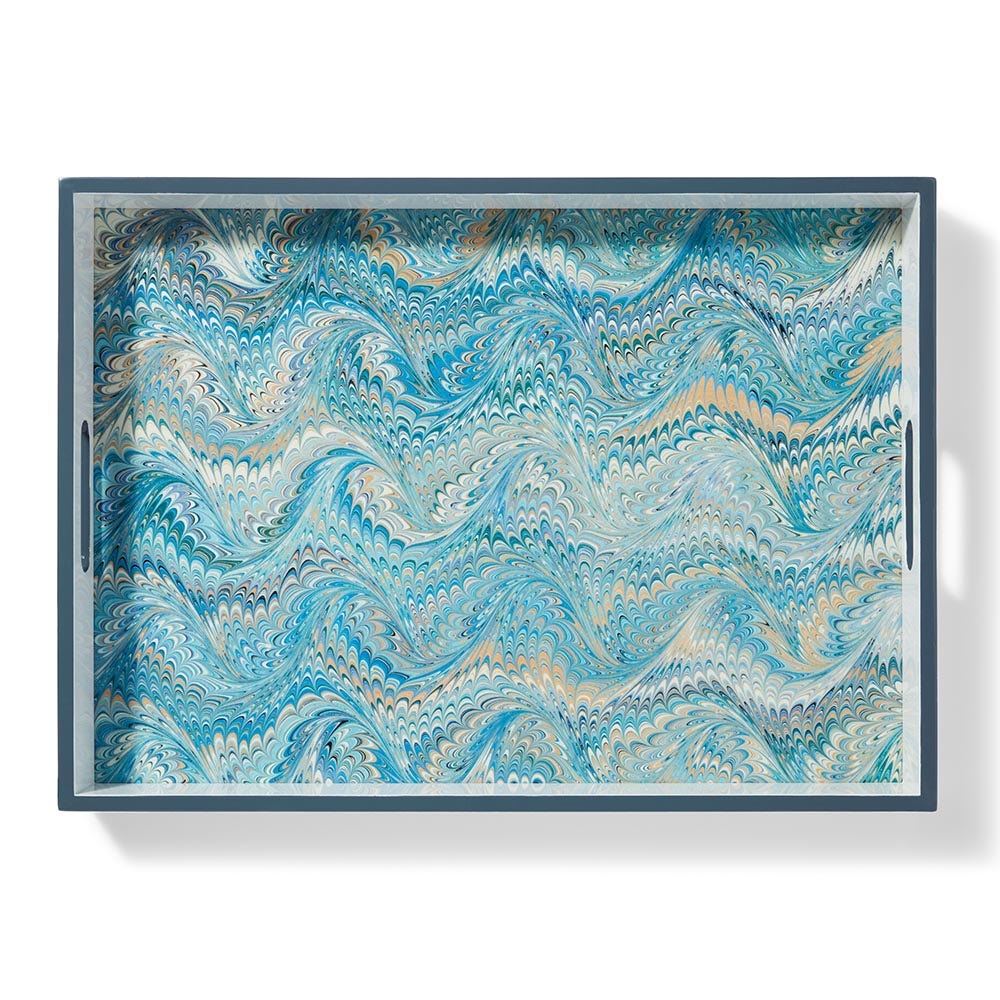 Marbled Paper Lacquer Tray
A decorative serving tray featuring a Met favorite The centuries-old practice of marbling paper yields astounding patterns. Some designs are spontaneous, others are controlled; and while techniques vary between cultures, marbling typically refers to a method of transferring colors from the surface of a water bath onto a piece of paper. This tradition is carried forth by the contemporary artists represented in The Paper Legacy Project, an initiative spearheaded by the Museum's Thomas J. Watson Library to preserve and promote the "Golden Age" of American decorated paper. The mesmerizing design on this sophisticated lacquer tray is Paper Legacy Project artist Faith Harrison's Wave pattern from 1988. Click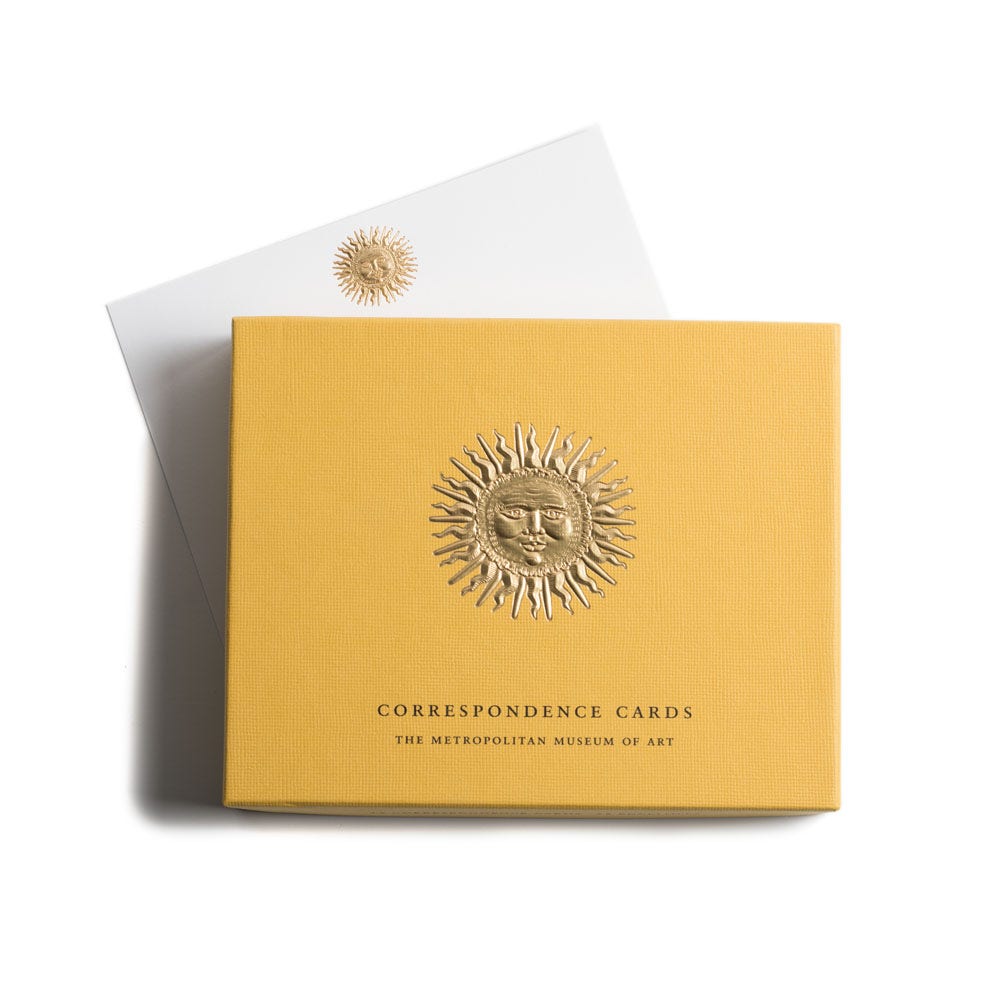 Sunburst Correspondence Cards
This sunburst design, known as a sun in splendor, is adapted from the decoration on a piece of horse armor in the Museum's collection, called a chanfron. It was worn on a horse's head to protect it in battle or tournament. The original chanfron comes from a complete horse armor dated 1554 and made by Wolfgang Grosschedel (documented 1517-1562), who lived and worked in the German city of Landshut, where he was the foremost armorer of his generation. The piece is also decorated with the coat of arms of the Bavarian noble family Freiberg von Aschau, and may have belonged to Pankraz von Freiberg (1508-1565).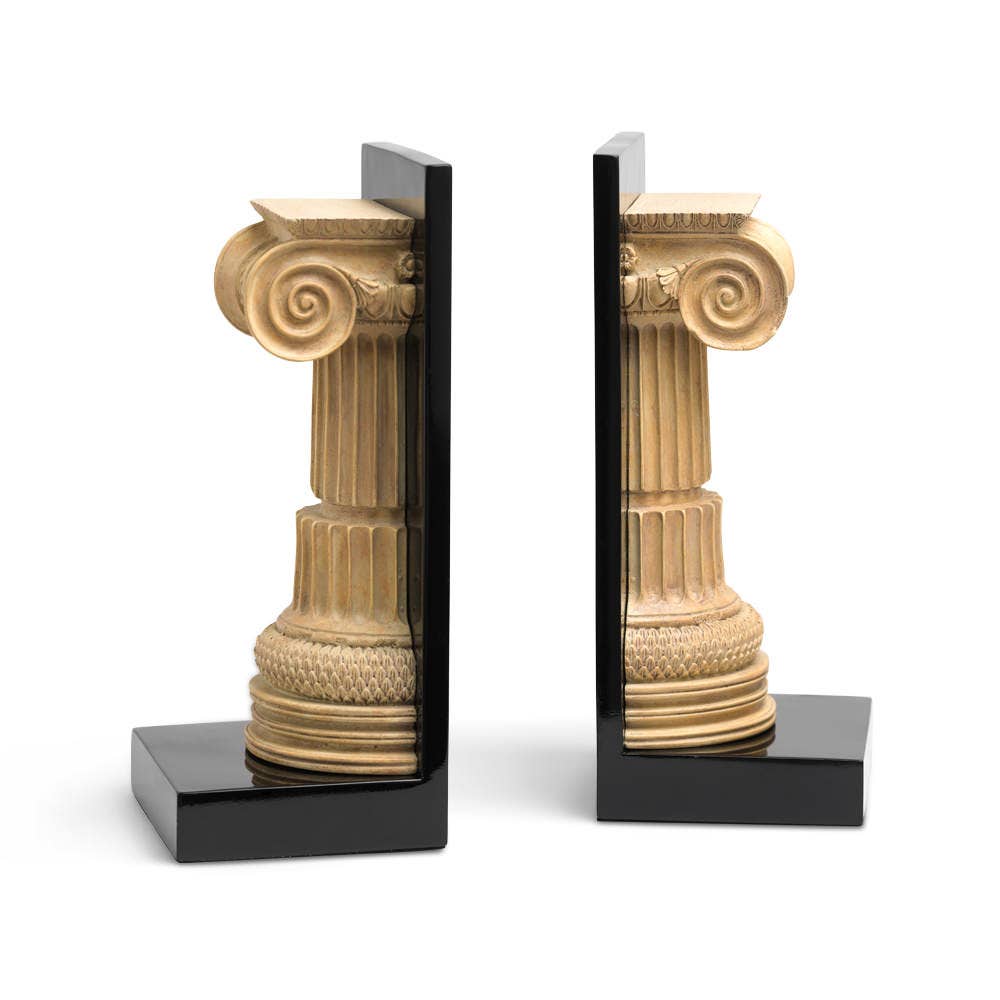 Sardis Column Bookends
An eye-catching pair for home or office, our bookends celebrate the magnificent Sardis column in The Met. The capital, base, and portions of the shaft of this great Ionic column come from a monumental temple constructed at Sardis (in today's Turkey) and dedicated to Artemis, the Greek goddess of the hunt and the moon. Shortened from its original height of 56 feet, The Met's massive column on display in the Greek and Roman galleries lets viewers admire the fine carving of the foliate ornaments on the capital and the fish-scale pattern on the molding at its base. These same decorative details appear on our handsome bookends.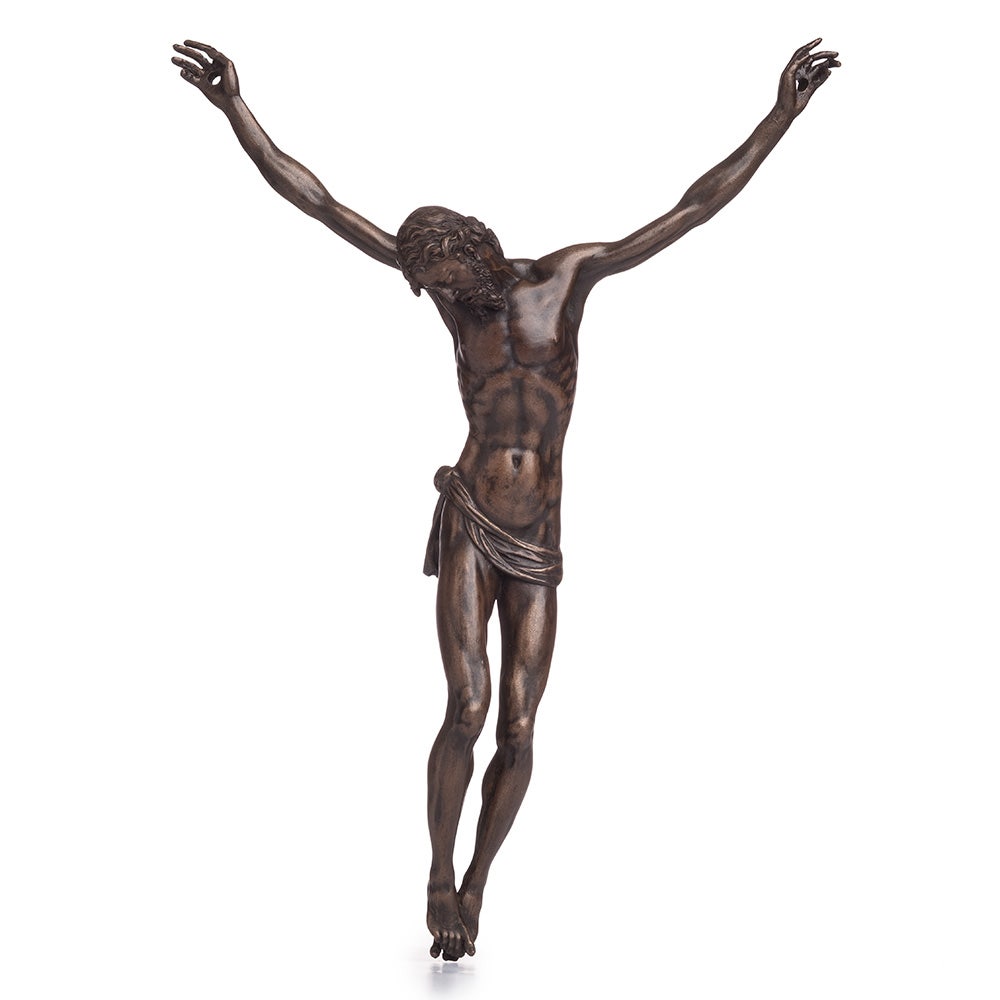 Giambologna: Corpus of Christ Sculpture
A faithful reproduction of a bronze sculpture in the Museum's collection, our Corpus of Christ,delicately conveys Christ's agony and pathos that was so evident in the original cast in the early seventeenth century in the workshop of Giovanni Francesco Susini (ca. 1575-1653), off of a model Giovanni Bologna, called Giambologna (Flemish, ca. 1529-1608).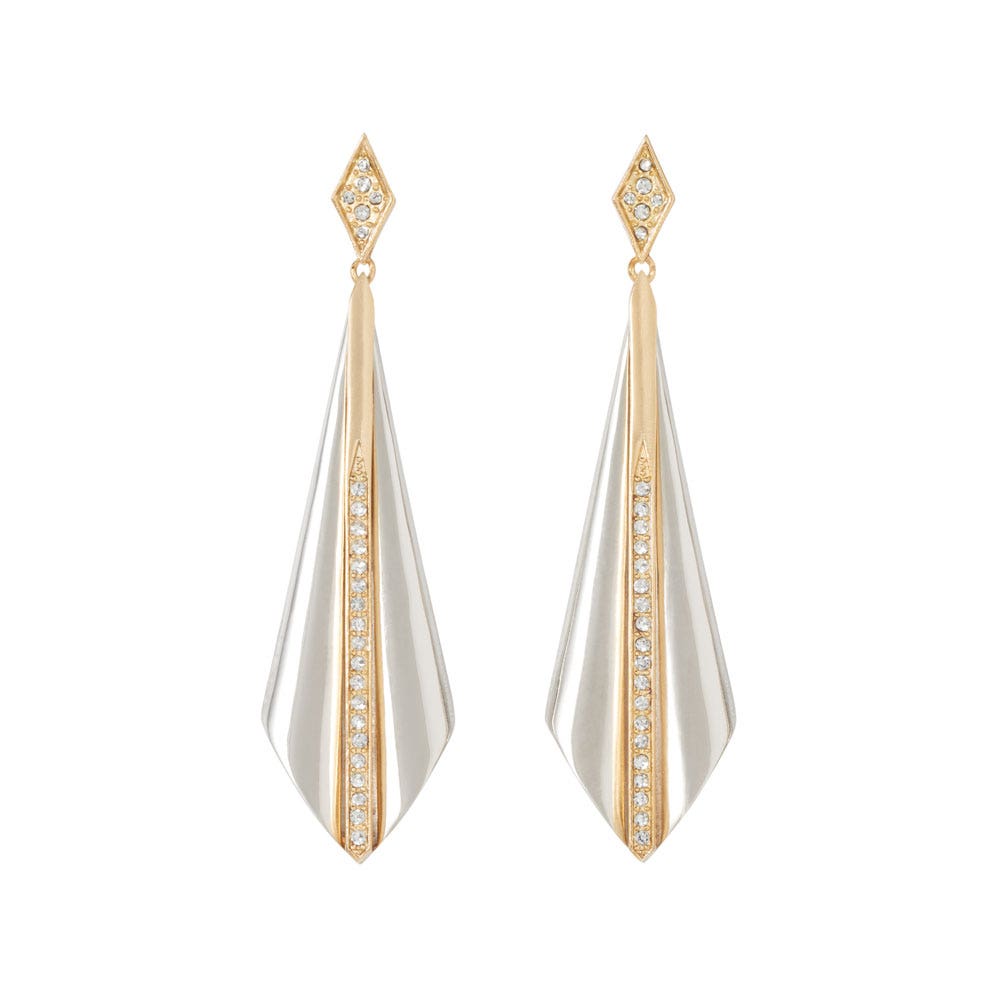 Erté Monte Carlo Drop Earrings
Our two-tone drop earrings celebrate a timeless Art Deco design by Romain de Tirtoff (French, born Russia, 1892-1990), better known as Erté. Crafted in contrasting 18K gold plate and rhodium plate, these linear earrings are adorned with 50 glittering Swarovski® crystals-a sleek, dramatic pair that will enhance your look. The artist enjoyed a multifaceted career as a costume and set designer; he is especially renowned for the fabulous covers he created for Harper's Bazaar magazine from 1915-1936. The Met houses an important collection of Erté's original gouaches. To learn more about the artwork that inspired this Met Store product, read our blog here.
Tips for Purchasing Authentic Made in Italy Products
With so many Made in Italy products available online, it can be difficult to know if you're getting the real thing. Here are some tips to help you ensure that you're purchasing authentic Made in Italy products:
1. Look for the Made in Italy label. This label indicates that the product was made in Italy and meets certain quality standards.
2. Research the brand. Make sure that the brand you're purchasing from has a reputation for quality and authenticity.
3. Check the materials. Italian-made products are known for their high-quality materials, so make sure that the product you're purchasing is made from top-quality materials.
4. Read reviews. Before making a purchase, read reviews from other customers to get an idea of the quality of the product and the authenticity of the brand.