Searching for Italy: All the Places Stanley Tucci Went in Season 1
ⓘ Disclosure: This page may contain one or more affiliate links. If you purchase a product from an affiliate link, Italofile receives a small commission from the seller--at no extra cost to you. Learn More »
Everyone is craving Italy right now. So, thankfully, Stanley Tucci has come to our rescue with his delightful and informative series "Searching for Italy."
"Italian on both sides," Tucci is a natural choice to host a food and travel show about Italy. The celebrated actor has long been associated with good food, thanks to his roles in "Big Night" and "Julie and Julia."
Tucci has also written a few cookbooks, including The Tucci Table: Cooking With Family and Friends. And he just published his food memoir: Taste: My Life Through Food.
Taste: My Life Through Food
39 new from $8.98
40 used from $8.33
Free shipping
as of 18 May 2022 3:21 pm
I have devoured all six episodes of "Searching for Italy." And, lucky for us, I've taken notes and added some context.
I'm looking forward to when we can all look back and begin planning our itineraries around all the incredible food that Tucci and his many guides have highlighted in this thoughtful, mouth-watering show.
Episode 1: Naples and the Amalfi Coast
Stanley Tucci explores pizza in Naples, which includes side trips to a cheese factory for mozzarella and a farm for San Marzano tomatoes. He also ventures for a family meal on the island of Ischia and a delicious dessert on the Amalfi Coast.
Naples
Pizza Fritta de Fernanda (reviews). Naples' "pizza before there was pizza," made by Fernanda, the city's most famous friggitoria.
Antica Pizzeria Brandi. Tucci and his guide Elisabetta Moro then have a brief pizza lunch at historic Pizzeria Brandi, where pizzaiolo (pizza maker) Raffaele Esposito cooked up the first Pizza Margherita in honor of Queen Margherita of Italy. Pizzeria Brandi opened in 1780, making it the oldest pizzeria in Naples.
Pizzeria La Notizia (reviews). This pizzeria, which has two locations, is run by Enzo Coccia, Italy's premier pizzaiolo. UNESCO recognized the Art of the Neapolitan Pizzaiolo in 2017 as an intangible cultural heritage. Enzo takes Stanley for a visit to the Campanian countryside to gather ingredients for pizza. They visit:
Caseificio Il Casolare. Here Tucci sees the dairy farm and factory where mozzarella di bufala is made. There are many dairy farms like this in the area around Paestum.
Gustarosso. Here Tucci samples world-famous San Marzano tomatoes and learns, from Zio Vincenzo, that San Marzano tomatoes can only be grown in this area of Italy where the soil has been made fertile by Mount Vesuvius.
Caffè Sospeso. Back in Naples, Tucci learns about the Neapolitan tradition of paying forward a coffee for someone who may need it later. This leads into Stanley's visit to:
Chikù. What started out as an effort to assist the local Romani population and others living in poverty in Scampia, Chikù has become a food destination for those who want to try a fusion of Neapolitan food mixed with flavors from its immigrants' cuisines. A truly wonderful initiative that has me intrigued…
Ischia
Il Focolare. Tucci travels to the island of Ischia to visit Il Focolare, a restaurant up in the hills. Ischia, and this restaurant in particular, is renowned for its rabbit dish coniglio all'ischitana.
Amalfi Coast
Lo Scoglio. Run by the De Simone family, Lo Scoglio is a seaside restaurant on the Bay of Nerano. Tucci's favorite dish at Lo Scoglio is Spaghetti con le zucchine alla Nerano, a recipe that he and his wife have tried to recreate for years after first visiting. Lo Scoglio also has a hotel where I plan to someday stay and eat my weight in that zucchini dish. 🙂
Sal de Riso (reviews). Tucci's last stop in the Naples episode is in Minori, home of pastry chef Sal de Riso. His eponymous pasticceria is where the decadent Delizia al Limone dessert, made with local Amalfi lemons, was born. I feel full just thinking about it.
Hotels in Massa Lubrense – Amalfi Coast – Italy
Book a food tour of Naples and the Amalfi Coast! Check out Context Travel's Savoring Naples Food Tour or these Campania Food and Wine Tours.
Episode 2: Rome
Tucci travels to Rome to taste its "Big 4" pastas — Amatriciana, Cacio e Pepe, Gricia, and Carbonara. He samples pecorino cheese, food cooked with offal (the "quinto quarto" or "fifth quarter"), and learns about Rome's Jewish history and cooking heritage.
Eat your way around Rome. Try Rome: 4-Hour Food Tour by Night or the Context Travel Savoring Rome Food Tour. Another Rome food experience to try is the Rome Food Tour with Pizza-Making, Trattoria Tastings & Gelato from Take Walks.
Episode 3: Bologna
The affable chef Massimo Bottura, who has three Michelin stars, is Tucci's guide for most of the episode focused on the food of Emilia-Romagna and its capital Bologna. The culinary heart of Italy, Emilia-Romagna has 44 products with protected status. On the menu in this episode are Parmigiano cheese, Mortadella, Tortellini, Prosciutto di Parma, Tagliatelle alla Bolognese, and so much more.
These listings are in order of appearance on the show. I grouped them under city sub-headings, even though Tucci goes back and forth between Bologna and Modena quite a bit.
Bologna
Modena
Acetaia Giusti. The Gran Deposito Aceto Balsamico di Giuseppe Giusti is the oldest balsamic vinegar producer in Italy, around since 1605.
More Modena. Caseificio Rosolare and Hotel Casa Maria Luigia, listed above under Bologna, are both in Modena. Bottura's Osteria Francescana, which has three Michelin stars, is not in the episode despite being the most famous restaurant in Italy for many years.
Parma
Salumeria Garibaldi. Following a discussion with journalist Alessia Cerantola, who uncovered the Prosciuttopoli scandal, Tucci visits Nicola Salvatore at his Parma salumeria to get a taste of the real Prosciutto di Parma.
Forlimpopoli
Rimini
Osteria Io e Simone. Tucci travels to the seaside town of Rimini, the birthplace of legendary Italian director Federico Fellini, and meets Fellini's niece Francesca. The pair get a history lesson about cappelletti and strozzapreti ("priest strangler") pasta shapes at Osteria Io e Simone, which is located near Rimini's cathedral, the uniquely unfinished Tempio Malatestiano.
Grand Hotel Rimini. Tucci and Fellini cap off the episode with aperitivi at Grand Hotel Rimini. The historic, luxurious, Liberty-style hotel on the Adriatic coast has 5-star and 4-star accommodation options.
There are tons of quality food tours in Emilia Romagna. For ideas, check out Viator's Best Emilia-Romagna Food Tours. If you're staying in Florence/Tuscany but want to fit in a side trip to the neighboring region of Emilia-Romagna, consider this tour from Walks of Italy: Small Group Gourmet Day Trip from Florence with Bologna Food Tour, Modena Balsamic & Parmesan-Making Experiences.
Episode 4: Milan
The Milanese work hard, play hard, and cook with a lot of butter. In this episode, Tucci visits Milan and its region Lombardy to learn about the area's non-pasta contributions to Italian cuisine, including risotto and polenta. We visit bars and restaurants that fuel Milan's workforce and take side trips to Sumirago, the Orobic Alps, and Lake Como.
Milan
Sumirago
Home of the Missoni family. Tucci takes a detour to have a leisurely lunch with Famiglia Missoni, the fashion family known for its colorful knits. After a fruitless quest to find porcini in the morning, Tucci returns to the Missoni home with Rosita Missoni and meets the rest of the friendly brood. They dine on braised meats and creamy polenta. Francesco Missoni, who wrote The Missoni Family Cookbook, jokes that southern Italians call northern Italians "polentoni," because of their love of polenta. The Missoni headquarters, factory, and outlet are located in Sumirago in the Lombard province of Varese.
Orobic Alps
The Bitto Center. The Bitto valley in the Orobic Alps is home to the town of Gerola Alta, where the rare Bitto cheese is made. Tucci meets cheese maker Paolo Ciapparelli, who explains the history, production, and lengthy aging process of Bitto. We then get to watch Tucci make pizzoccheri, buckwheat-flour pasta native to the Valtellina.
Lake Como
Lake Como Fishing. Lago di Como is famous as a playground for the rich. But rather than hang out with George Clooney et al during this visit, Tucci goes fishing with William Cavadini. Cavadini, the president of the Lake Como fisherman's association Pescatori Como Alpha, cleans and cooks a meal of fresh perch while discussing his Lega Nord politics and love for its leader Matteo Salvini. It's an awkward moment between the two, as Tucci points out the "human instinct for saving people" in the face of refugee policies under Salvini. But the moment serves as a political counterpoint to the Bologna episode in which Tucci met with an activist on the left.
Back in Milan
Osteria del Treno (reviews). Tucci finishes up his tour of Milan and Lombardy with a return to the city. But this time, rather than reveling in the young and the new, Tucci visits the Osteria del Treno. The Osteria's Sala Liberty ballroom was built in 1898 as a meeting hall for the unionized rail workers who worked at the nearby Stazione Centrale. At Osteria del Treno's Sala Liberty Tucci and his wife dine on veal shank, potatoes, and other Slow Food-approved Milanese dishes while they listen to traditional live music.
Want to book a food tour in Milan and/or Lombardy? Try this list of Tripadvisor Food Tours in Milan and Lombardy.
Burleigh Garden Vine Pasta Bowl
Burleigh is the last pottery maker in the world to practice tissue transfer printing, a 250-year-old technique that has been skillfully applied to this custom Ralph Lauren design. Tissue transfer printing allows for one color to be used in each piece, with a gradation of density that creates a richly textural appearance. Natural clay Dishwasher and microwave safe Made in England SIZING Diameter, about 9" Height, about 1.75". Gifts - Barware > Ralph Lauren > Saks Fifth Avenue > Barneys. Ralph Lauren. Color: Black.
Maccarello Oval Pasta Bowl
From the Maccarello Collection. Combining his love of fishing with his passion for art, maestro artisan Gianluca Fabbro beautifully illustrates the hues and nuances of the blue mackerel. Fabbro hones his sponging technique to hand paint a school of fish commonly found along the Mediterranean and Adriatic Sea on this terra oval pasta bowl. Terra white Dishwasher and microwave safe Made in Italy SIZE 9.25"L x 7.5"W x 2"H 26 oz capacity. Gifts - Serveware > Vietri > Saks Fifth Avenue > Barneys. Vietri.
Fauna Pheasants Oval Pasta Bowl
From the Fauna collection. The work of maestro artisan, Gianluca Fabbro, is often recognized by a bold array of colors coupled with an innate attention to detail through his handpainted sponging technique. Fauna combines the outline of the classic hunting bird paired with nature's greenery to depict what is commonly found during the hunt (la caccia) in umbria, the italian land known for capturing wild pheasants. Handpainted in veneto Dishwasher and microwave safe. Earthenware Made in Italy SIZE 9.25"L x 7.5"W x 2"H. Gifts - Serveware > Vietri > Saks Fifth Avenue > Barneys. Vietri.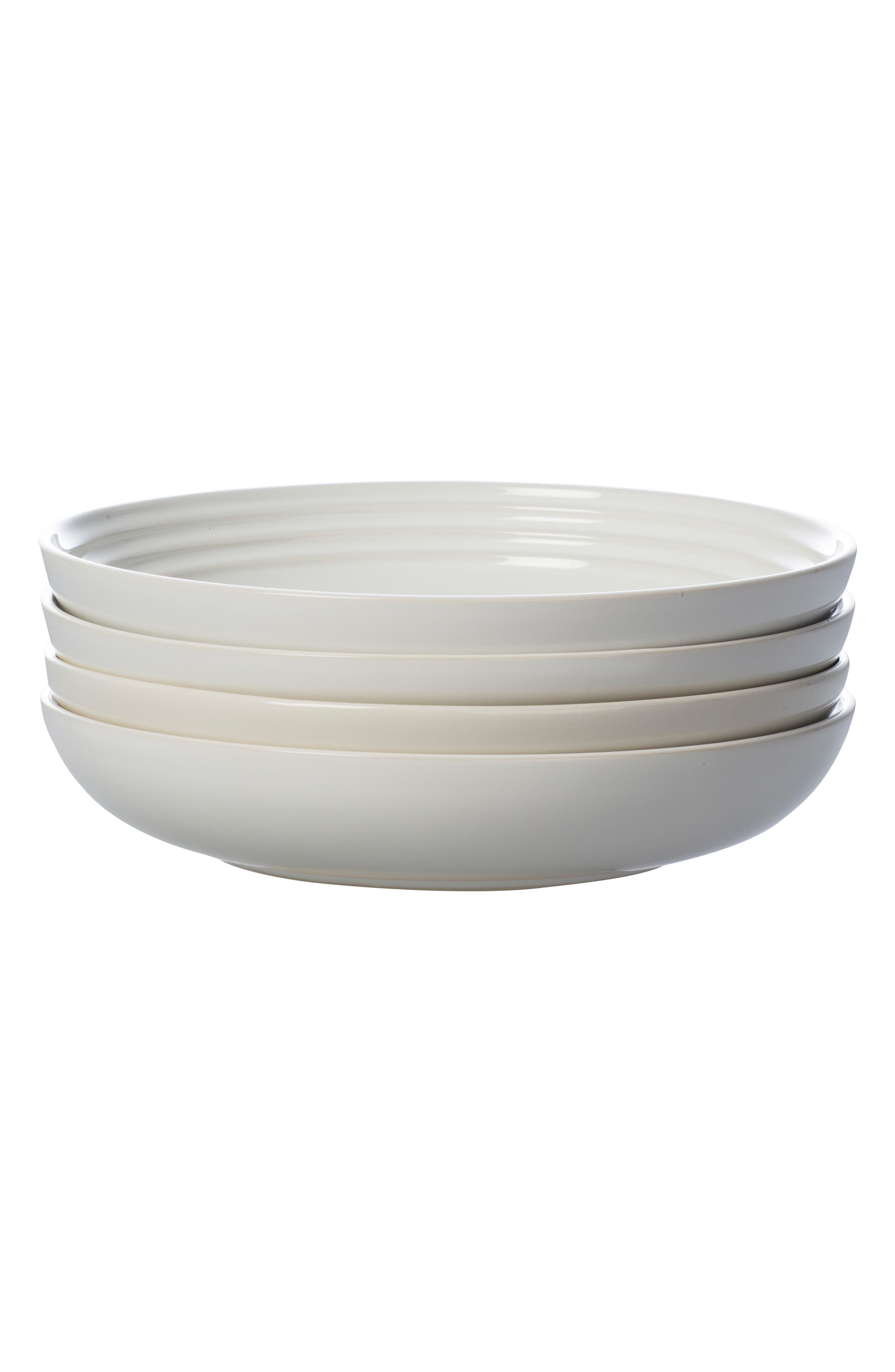 Le Creuset Set of 4 Pasta Bowls in White at Nordstrom
Brighten any meal with enameled stoneware pasta bowls designed to keep food warm at the table and stay beautiful through daily use. This set of four bowls is glazed to resist chips and scratches and is crafted with the same durability and attention to detail as Le Creuset's signature cast iron. Set of four pasta bowls 8.5" diameter Stoneware Dishwasher, broiler, oven and microwave safe Imported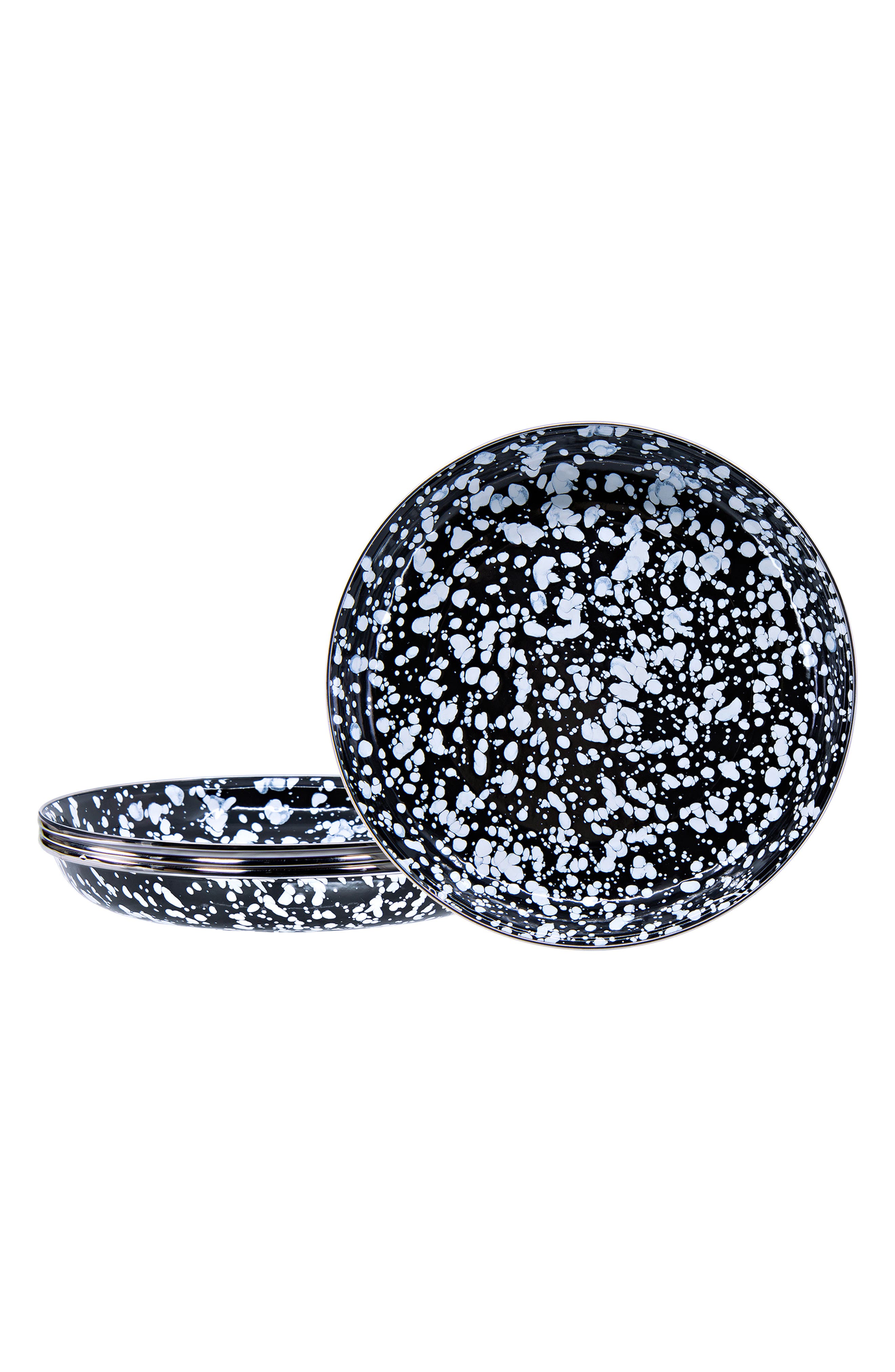 Golden Rabbit Enamelware Set of 4 Pasta Plates in Black Swirl at Nordstrom
Refresh your table with these distinct pasta plates that are hand dipped in enamel and fired at high temperatures to create a durable, nonporous surface. A stainless steel rim adds to the durability. Set of four plates 10" diameter Carbon steel/porcelain enamel/stainless steel Dishwasher safe Imported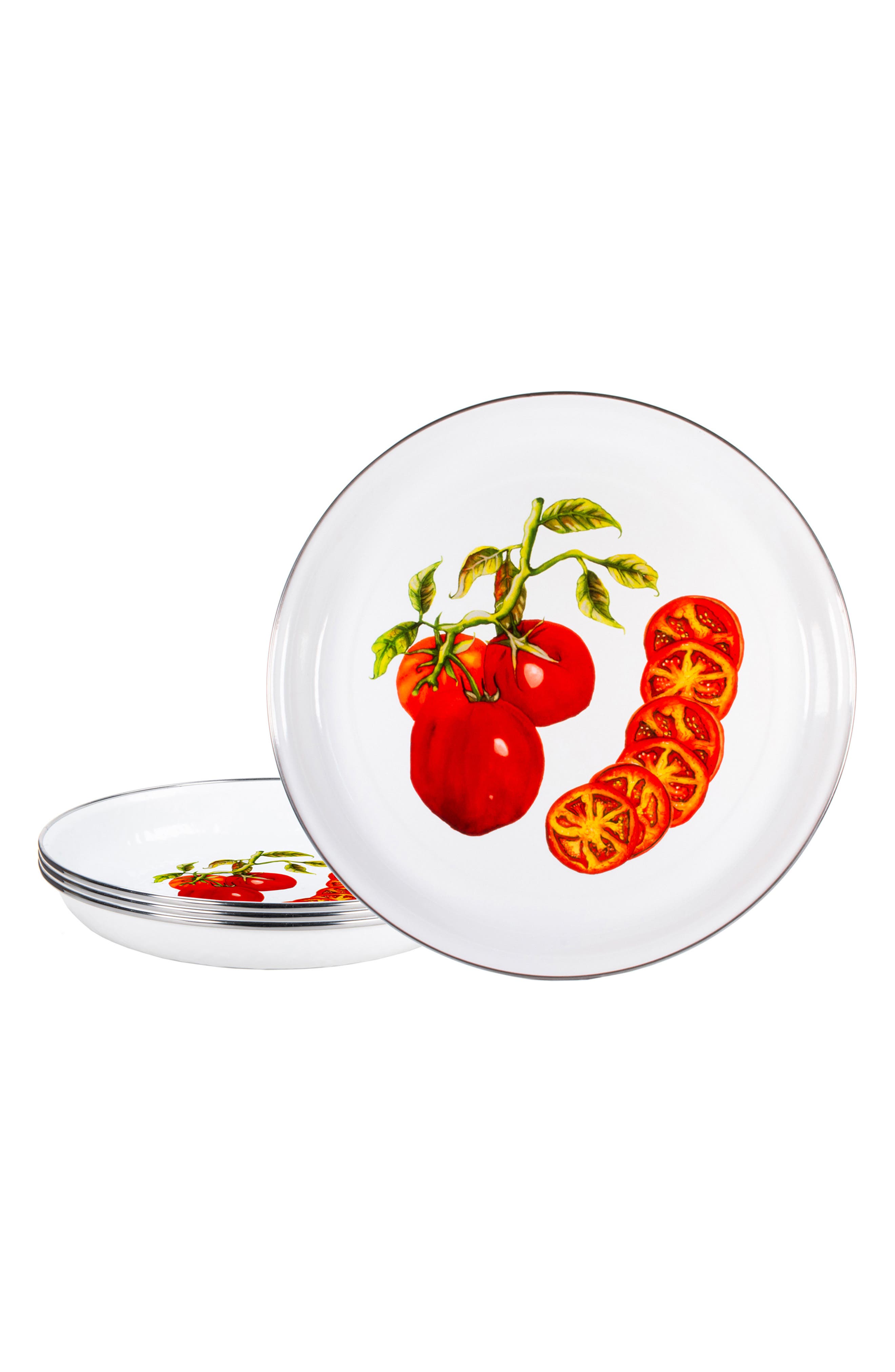 Golden Rabbit Enamelware Set of 4 Pasta Plates in Tomatoes at Nordstrom
Refresh your table with these distinct pasta plates that are hand dipped in enamel and fired at high temperatures to create a durable, nonporous surface. A stainless steel rim adds to the durability. Set of four plates 10" diameter Carbon steel/porcelain enamel/stainless steel Dishwasher safe Imported
Episode 5: Florence and Tuscany
Stanley Tucci returns to Florence, the city where he lived with his family for one year when he was 12. In this episode, Tucci cooks a meal with his parents, Joan and Stan, and he learns about the high and low cuisines of Tuscany, from steaks to beans.
On a sad note, Tucci's companion through much of his Tuscany episode, Fabio Picchi, passed away on February 25, 2022.
Florence
Florence Duomo and Baptistery. The show opens with gorgeous shots of Florence's landmarks, including the Duomo and the Baptistery (Battistero), where Tucci and his parents admire the mosaic ceiling. We learn that Tucci's father Stan brought their family to Florence so that he could study figure drawing and sculpture.
Mercato di Sant'Ambrogio. Tucci heads to Sant'Ambrogio Market where he meets chef Fabio Picchi, who will guide him through several dishes on this episode. Here, they buy T-bone steak — the famous Bistecca alla Fiorentina — that is as thick as the "length of a matchstick" (i.e., the ideal thickness).
C. Bio. Tucci and Picchi then head to C.Bio, Picchi's deli, where the chef has a rooftop grill and dining area. The two sample some raw steak ("sushi," Tucci jokes), that has been dressed with a little salt and a spritz of lemon. This can only be done with the freshest cut of meat, which comes from Picchi's preferred butcher at the market. Olive branches thrown onto the fire provide the cooked bistecca a unique flavor.
Babae. Tucci forgoes a Tuscan wine adventure to stay put in Florence for a bar crawl. Here, with his friend Elisabetta Digiugno, he encounters the architectural curiosity found only in Tuscany, but particularly in Florence: the wine window. Filmed before the pandemic, this episode had some real foresight in showcasing these "little doors of paradise," since several were put back into action for social distancing purposes.
Osteria Belle Donne. After several glasses of white wine, Tucci and Digiugno end up at Osteria Belle Donne, where they enjoy Vin Santo, Tuscan dessert wine. Tuscans traditionally drink this wine with an almond biscotti called a cantucci.
Mercato Centrale. Tucci heads to another market. But instead of shopping for rich man's food (bistecca), he learns about beans and Tuscany's cucina povera. His guide is the Italian food critic and culinary historian Leonardo Romanelli.
Ponte Buriano
Festa della Battitura. Tucci takes a detour to Ponte Buriano to attend the wheat threshing festival known as the Festa della Battitura. This peasant festival, which takes place in the last week of August, celebrates the cucina povera of the Tuscan countryside, which is heavy on bread. Among the many hearty dishes that the cooks prepare are crostini d'ocio, crusty toast with a topping of sauce made from a male goose (gander).
Back in Florence
Osteria Cinghiale Bianco. Tucci, Romanelli, and Daniela Murphy go on to dine at Marco Maselli's Osteria Cinghiale Bianco, which specializes in dishes like ribollita, pappa al pomodoro, and panzanella — three famous Tuscan dishes made with stale, saltless bread. Salt was a luxury in Tuscany centuries ago, so bread in this region is typically made without it.
New Generation Festival. Tucci is invited to a black-tie event that is dedicated towards the performing arts and is inspired by "the achievements of the Renaissance." Here, Tucci tastes a foam version of panzanella, which leads him to search for its creator.
Nugolo. Tucci finds the foam panzanella maker at Nugolo, an innovative restaurant run by young chefs who aim to reimagine Tuscany's traditional foods.
Livorno
Terrazza Mascagni (reviews). The opening shot of Tucci's last destination in Tuscany is of Livorno's incredible, checkerboard-patterned Terrazza Mascagni. Built in 1925, the Mascagni Terrace is named after Livorno composer Pietro Mascagni and it's made up of more than 34,000 black and white tiles.
Torteria da Gagarin. Back with Fabio Picchi, Tucci goes to this sandwich shop known for its chickpea flour pancake, the cecina. One thing not mentioned here is the unusual name of the torteria. The Communist Party of Italy was founded in Livorno in 1921. So naming a shop after the famous Cosmonaut Yuri Gagarin is not uncommon in these parts.
In the hills for Cacciucco. Tucci and Picchi settle at a friend's house in Livorno for a meal of Livornese seafood stew called cacciucco. We learn that you cannot make a fish stew and call it cacciucco if you are not originally from Livorno. But that doesn't mean you can't try.
Want to book a food tour in Tuscany? Try Tripadvisor's 10 Best Tuscany Food Tours or these Florence food tours. For an evening food and wine tour of Florence, consider Dine Around Florence: An Authentic Evening Wine & Food Tour Dine Around Florence: An Authentic Evening Wine & Food Tour.
Episode 6: Sicily
Tucci takes a tour around Sicily to explore this "mythical land of contrasts." His travels take him to a Michelin-starred restaurant and a 16th-century palace, as well as to humble homes on the frontline of Europe's migration crisis.
Train to Sicily from Calabria
Train on a boat! The episode opens with Tucci on a train from mainland Italy to the island of Sicily. The train boards a special train-carrying ferry and crosses the Strait of Messina in about 30 minutes. While on board this ferry, train doors are open so that passengers can walk around the ship and enjoy the sea air.
Arancini on board. Tucci talks about the Sicilian tradition of eating an arancino (rice ball stuffed with goodness) while on board the ferry to the island. This Sicilian "taste of home" often comes by way of the snack bar on board the train, which this Italian food writer pointed out is hardly the pinnacle of gastronomy. Personally, I would have liked an additional Sicily episode just to explain the arancina/arancino debate between western and eastern Sicilians.
"Do these arancini deserve so much passion? There are those who consider them good, indeed very good, extolling them on the web and on social networks. And there are those who, like us, find them terrible. In our experience, these are the worst arancini we have ever eaten, with an unparalleled set of flaws."

Storie Enogastronomiche
Bagheria
I Pupi Ristorante. The first "real" stop of this episode is in Bagheria, a seaside town near Palermo that is home to Michelin-starred restaurant I Pupi. Here, Tucci meets the vivacious, self-taught chef Tony Lo Coco who is creating wondrous plates with the local fish and seafood, including spaghetti alla bottarga ("spaghetTONY") and an antipasto of fish and aromatic olive oils ("Sicilian sushi").
Vittoria
Agricola Occhipinti. Tucci meets young, innovative wine maker Arianna Occhipinti at her organic vineyard in Vittoria, a small city in southeastern Sicily. Working with Frappato and Nero d'Avola grapes, which are common to the area, Occhipinti's farm produces about 140,000 bottles of wine per year. Tucci and Occhipinti sample her SP68 Bianco wine, among others. New York Times wine writer Eric Asimov wrote an article about Occhipinti in 2016.
Palermo
Palazzo Raffadali. In Palermo, Tucci looks a little bit uneasy at the 16th-century palace of Princess Stefania de Raffadali. But it's the perfect setting for Tucci to sample a dish that he has come to be associated with: Timballo (Timbale in English) or Timpano. This is the Sicilian casserole-type food that features in "Big Night" and recalls scenes from the famous Italian book The Leopard. Using a timbale mold, the princess's chef Maria prepares eggplant timbale, rice timbale, and a timbale with a pastry crust. Tucci and the Raffadali family discuss the international origins of Sicilian food, the mafia murders of Falcone and Borsellino, and the changing faces and flavors of modern Sicily.
Lampedusa
Home of Beppe and Rina. After a two-hour flight, Tucci lands in Lampedusa, the tiny Sicilian island that has become the center of the Mediterranean migrant crisis. Here he meets fisherman Beppe, who tells a harrowing tale of an overturned migrant ship. The "open arms" policy of Lampedusa earned the island a Nobel Peace Prize nomination in 2014. At the home of Beppe and his wife Rina, Tucci dines on sarde a beccafico, the poor man's attempt at recreating a stuffed poultry dish made with the beccafico (garden warbler). Sarde a Beccafico has many different versions depending on in which city in Sicily it is made.
Migrant Boat Graveyard. Tucci follows up his difficult conversations with Beppe with a solemn visit to the Cimitero delle Barche. I appreciate that Tucci and his producers have not shied away from the current events that continue to shape Italy.
Catania
Mt. Etna. Tucci does not climb the slopes of Mt. Etna. But the still-active volcano looms over everything in Catania. Its mineral-rich soil is also the reason why food and wine from this area is especially prized.
Me Cumpari Turiddu. At this Michelin Bib Gourmand restaurant, Tucci meets owner Roberta Capizzi who sources her entire menu from Sicilian products. Her restaurant's specialties include Pasta alla Norma, named for the opera by native son Vincenzo Bellini; donkey carpaccio; and a welcoming dining room.
Home of Emanuele and Mimmo. Deeply affected by the migrant boat tragedies in Lampedusa and in her home city of Catania, Emanuele Pistone founded Isola Quassud an organization that gives purpose to young migrants through cooking and theater. At her home, we meet husband Mimmo and recent young migrants Joy and Mustafa. The family shares a meal of chicken and rice flavored with spices from Nigeria and Egypt, thereby coming full circle with the transitory culinary history of Sicily. I think Anthony Bourdain would be proud to see Tucci following in his thoughtful footsteps.
Want to get more flavor out of your Sicily trip? Consider Tripadvisor's Top-Rated Sicily Food and Drink Tours.
Where Can You Watch Searching for Italy?
There are several ways to watch Stanley Tucci: Searching for Italy. The show is produced by CNN and it is available on that network and CNN's new app CNN+.
Searching for Italy is also available to stream. You can watch live CNN on Hulu (with a Live TV subscription) or YouTubeTV.
HBOMax and BBC iPlayer are also authorized to stream Stanley Tucci's show.
Depending on where you are in the world, you may need to use a VPN to stream this and other shows.
Where Will Stanley Tucci Go in Season 2?
Want more? Me, too! Luckily, "Stanley Tucci: Searching for Italy" Season 2 is set to debut in spring 2022.