Best Shoes to Pack for Italy
Packing for a trip to Italy can be hard. On the one hand, you want to be stylish. On the other, you want to be comfortable as you walk around museums in Florence and ruins in Pompeii.
The same criteria apply to packing the shoes for your trip. Shoes take up a lot of room in your suitcase and you want to make sure that you have room to bring back souvenirs from your travels.
You want to make sure that you pack shoes that you want to wear, that are practical for the activity and terrain, and that won't give you blisters at the end of the day.
Most guidebooks say that you should pack two pairs of shoes for a weeklong trip. I agree that two pairs are the minimum ideal for a week in Italy, though there are many situations when you may need more. But which shoes? For what? And when?
In my experience, the following styles and brands have proven to be the best shoes for traveling around Italy. While I am female, I am familiar with shoe-packing needs for men and kids. So the below suggestions are somewhat unisex.
Birkenstock Sandals
Best for: Almost every activity, from walking around ruins to wearing to a casual dinner
When to wear them: Spring through fall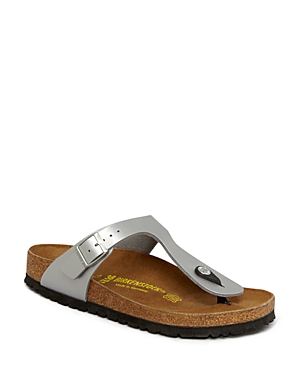 Birkenstock Women's Gizeh Thong Sandals
as of 7 April 2022 12:40 pm
Birkenstock sandals, particularly the Gizeh variety, have been my go-to travel shoe for more than two decades. They are comfortable and renowned for their arch support. And now that Birkenstock make their shoes in so many fun colors and textures (e.g., patent leather, fake snakeskin-patterned), you can wear them with just about everything.
I pack my Birkenstocks for nearly all Italy trips between April and October.
For beach/summer holidays, I sometimes just pack two pairs of Birkenstocks—one leather/cork variety for sightseeing and going out and one made of EVA (plastic) for sand and sea activities.
Birkenstock EVAs are inexpensive and easy to clean, making them great beach shoes. But I don't like them as much for sightseeing because they are not as breathable as the sturdier, leather variety.
Another very popular Birkenstock style is the Arizona. Birkenstock Arizonas are open-toed, rather than with a thong toe, so they are easily worn with socks. That sounds like a fashion disaster, but they are very practical and worn by both men and women of all ages.
Runners-Up: Birkenstocks are the best-selling walking sandals. But I would also recommend Vionic or Merrell walking sandals, both of which are known for their comfortable and sturdy footbeds. Note, however, that these two shoe brands tend to be more on the sporty side, so they may not be as versatile when pairing with your wardrobe.
Leather Sneakers
Best for: Sightseeing, casual dinners, bar-hopping.
When to wear them: Year-round, especially on rainy days; on the plane to and from
adidas Originals Women's Superstar Sneaker, White/Core White, 7
as of 23 March 2023 10:02 pm
Whether you call them sneakers, tennis shoes, or trainers, you are probably going to need a pair when you are visiting Italy. But you don't have to pack ugly ones!
Adidas Superstar or Adidas Stan Smith may or may not be the "it" shoes anymore. But these types of leather fashion sneakers have served me very well while traveling in Italy. Not only are they comfortable for activities like climbing stairs, walking on the rooftop of St. Peter's or the Milano Duomo, or ambling around the dungeons of the Colosseum, they are neutral enough in black or white to match everything as well as hip enough to help me blend in with the locals.
I also love Nike Air Force One sneakers for this purpose. Puma Classics also look good, but you may not want to get the suede shoes wet.
Since leather sneakers are somewhat heavy and take up room in a suitcase, I usually end up wearing them on the plane or train. This way, I don't have heavy-ish sneakers in my suitcase and am primed for racing to a gate or platform if needed.
I also like to wear sneakers on travel days because this way I am also wearing socks, which I find essential for wearing in airports and on planes. Should airport security ask me to remove my shoes, I don't want to stand on the airport floor in my bare feet! I also like removing my shoes during a long flight. But I wouldn't want to subject someone to having to look at my bare feet, nor do I want to feel the sticky airplane carpet on my cold, sockless soles. Egad!
Flexible/Breathable Sneakers
Best for: Sightseeing, jogging/exercise
When to wear them: During the hot, dry summer; on active vacations; on the plane to and from
adidas Women's Cloud foam Pure Running Shoe, white/white/black, 8 Medium US
20 new from $51.99
2 used from $30.24
Free shipping
as of 23 March 2023 10:02 pm
I really enjoy running in Rome and going jogging on my Italy travels. So, I often pack a pair of stylish leather sneakers PLUS a pair of lightweight running shoes.
Yes, I tend to violate the two-shoe minimum when I pack. But let me explain!
Flexible, breathable, textile-upper sneakers are easy to cram into a suitcase. They weigh very little and they hardly take up any room. This is a great "extra" pair to throw in should you want another option, especially on those mornings after a long day of sightseeing and your feet are sore.
In this case, I like Adidas "Cloudfoam" sneakers. They are light as clouds and so cushiony you will forget you are wearing them. Of course, this brand is just a suggestion. But these are what have worked for me.
By the way, I also recommend Cloudfoams for the plane because they are so easy to put on and take off. But they are better "suitcase shoes" because of their near-weightlessness.
Water Shoes
Best for: Beach sand and slippery sea cliffs
When to wear them: At the beach
If you are going to spend a lot of time at the beach, I recommend bringing some water shoes.
Italian beaches are either rocky and/or have volcanic or partially volcanic sand. The little black particles in the sand heat up and can scorch your feet if you aren't careful. Kids are particularly susceptible to getting their little feet burned on the beach.
Another time you may need water shoes is when you are at a beach or seaside location with a lot of cliffs. This beautiful grotto in Puglia comes to mind.
If you're not going to get water shoes but you are going to the beach, do make sure you pack a pair of flip-flops or slides. For little kids, consider some (ugly but practical) Crocs. Your feet—and your kids' feet—will thank you.
Rubber Boots
Best for: Rainy or muddy days
When to wear them: Rainy season (November-March)
A different type of "water shoe," these boots are best for rainy and/or muddy days. You probably won't want to pack rubber boots (e.g., Wellies or Hunter) unless you are heading to Venice during the acqua alta time. They are heavy and take up a lot of room in your suitcase. But it is so nice to have them when you really need them.