These Michelin-Starred Restaurants are the Best in Italy
Disclosure: This post may contain affiliate links. If you purchase something via an affiliate link, I may receive a small commission—at no extra cost to you. A win for both of us! I only recommend products and services I trust.
If you're looking for the best restaurants in Italy, the first place to look is to the latest Michelin rankings. Michelin, the world authority on restaurant rankings, has rated hundreds of restaurants in Italy as exceptional places to dine.
As of this writing, there are 12 restaurants in Italy with three Michelin stars. The highest ranking, three Michelin stars means that a restaurant is "worth a special journey."
One thing you'll notice is that all 12 of these restaurants are located in northern and central Italy. But restaurants in southern Italy and the Italian islands have been Michein stand-outs in the past and they surely will be again. And, another thing you may notice is that many of these top restaurants are located within hotels, setting you up with an easy way to plan your itinerary.
Are you the type of traveler that will make a "special journey" just to dine out? Then, check out the latest list of Michelin 3-starred restaurants in Italy and start planning your trip!
Northern Italy
Location: Modena, Emilia-Romagna
Even casual foodies will probably recognize the name Osteria Francescana and its chef and mastermind Massimo Bottura. This three-Michelin-starred restaurant in the heart of Modena has been featured on countless shows, from Chef's Table and Stanley Tucci's Searching for Italy to the second season of Aziz Ansari's dramedy Master of None. Combining tradition with innovation, Osteria Francescana takes diners on a gastronomic journey through Emilia-Romagna's flavors, all presented with artistic flair.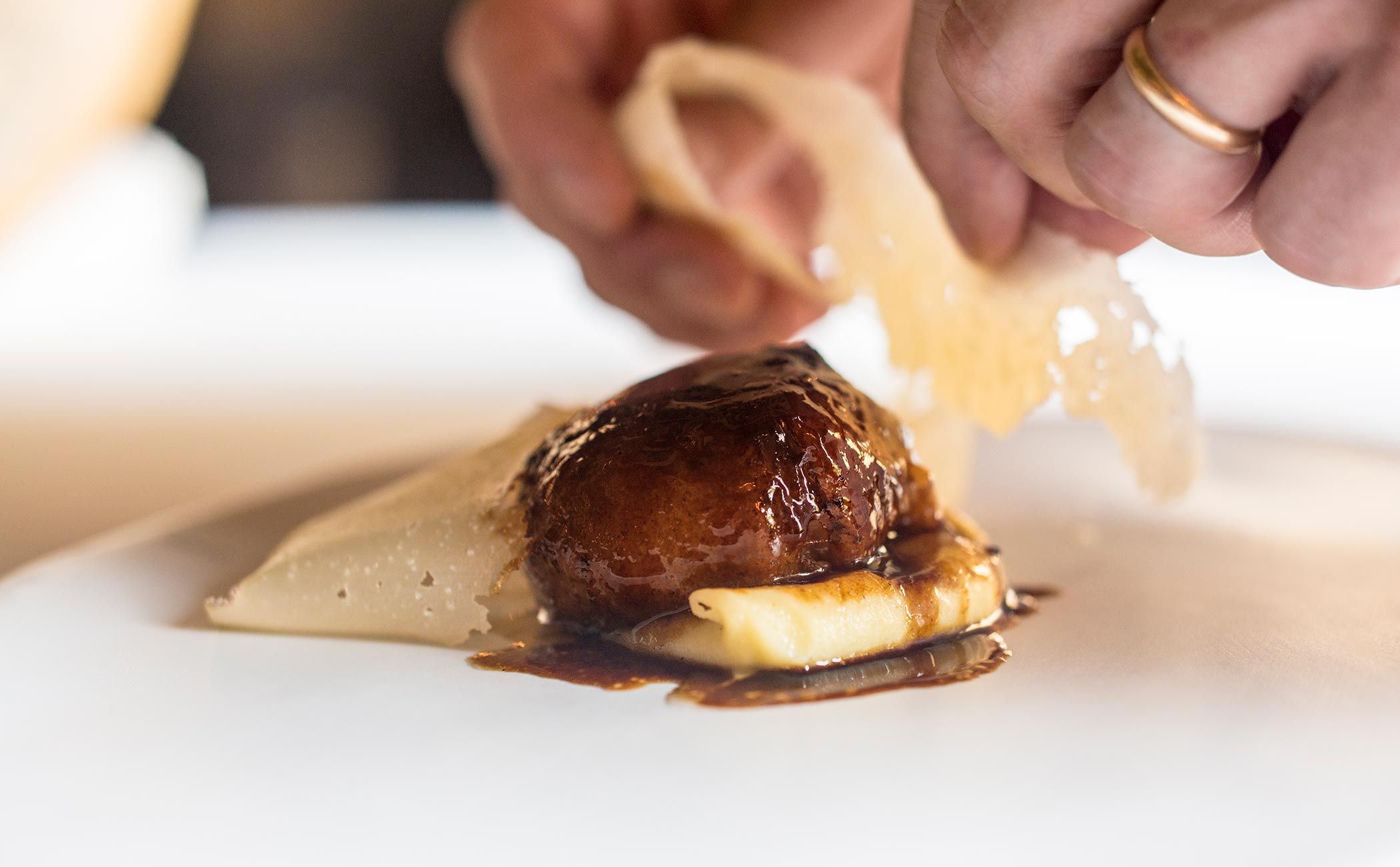 Location: Brusaporto, Lombardy
Vittorio, the paterfamilias and namesake who founded this popular restaurant in 1966, passed away in 2005. But the entire Cerea family has since taken the family restaurant to new heights, earning a third star in 2010 and expanding the Da Vittorio empire to include dining outposts in elite destinations like St. Moritz and Shanghai. Located about 10 minutes outside the Bergamo, the Alpine part of Lombardy, Da Vittorio is particularly renowned for its seafood dishes—pretty weird for a mountain town. But in a country like Italy, where you can spend the morning in the mountains and the afternoon on the beach, it's not unusual to find exceptional seafood dishes even in landlocked provinces.
Tip: The "Elephant Ear" (Orecchia di Elefante) Milanese-style veal cutlet must be ordered in advance.
Location: Alba, Piedmont
Known for its truffles, the Piedmontese city of Alba is the home of the 3-starred Piazza Duomo. Here, Chef Enrico Crippa showcases the culinary traditions of Piedmont in several delightful tasting menus that he labels as "sensorial journeys." One recent "Viaggio" included tastings of specialties from Piedmont and neighboring regions, while another tasting called "Barolo" took palates on a journey around Piedmont, from Turinese aperitifs to manzo to truffles to profiteroles.
Tip: If staying in Alba or its environs, consider adding a truffle-hunting tour to your itinerary.
Location: San Cassiano in Badia, Trentino Alto Adige
The creative outlet of Chef Norbert Niederkofler, this Michelin 3-starred restaurant is located within the Rosa Alpina Hotel, which has breathtaking views of the UNESCO-designated Dolomites. The Rosa Alpina was recently acquired by Aman Hotels and has temporarily closed service—including the restaurant. It plans to re-open for the 2024/25 season, at which time one hopes St. Hubertus reopens, too.
Location: Rubano, Veneto
Le Calandre, led by the Alajmo family, offers a gastronomic adventure near Padua. Chef Massimiliano Alajmo's imaginative cuisine combines tradition with modern techniques, resulting in dishes that surprise and delight diners in an elegant and welcoming ambiance. These include dishes like cuttlefish cappuccino, risotto with cocoa coffee and passion fruit, and rabbit ravioli with bitter greens.
Tip: The Alajmo family has built a small fiefdom in the Veneto, with Le Calandre the jewel in the crown that includes cafes, bistros, and other dining venues in Padua, Treviso, and Venice.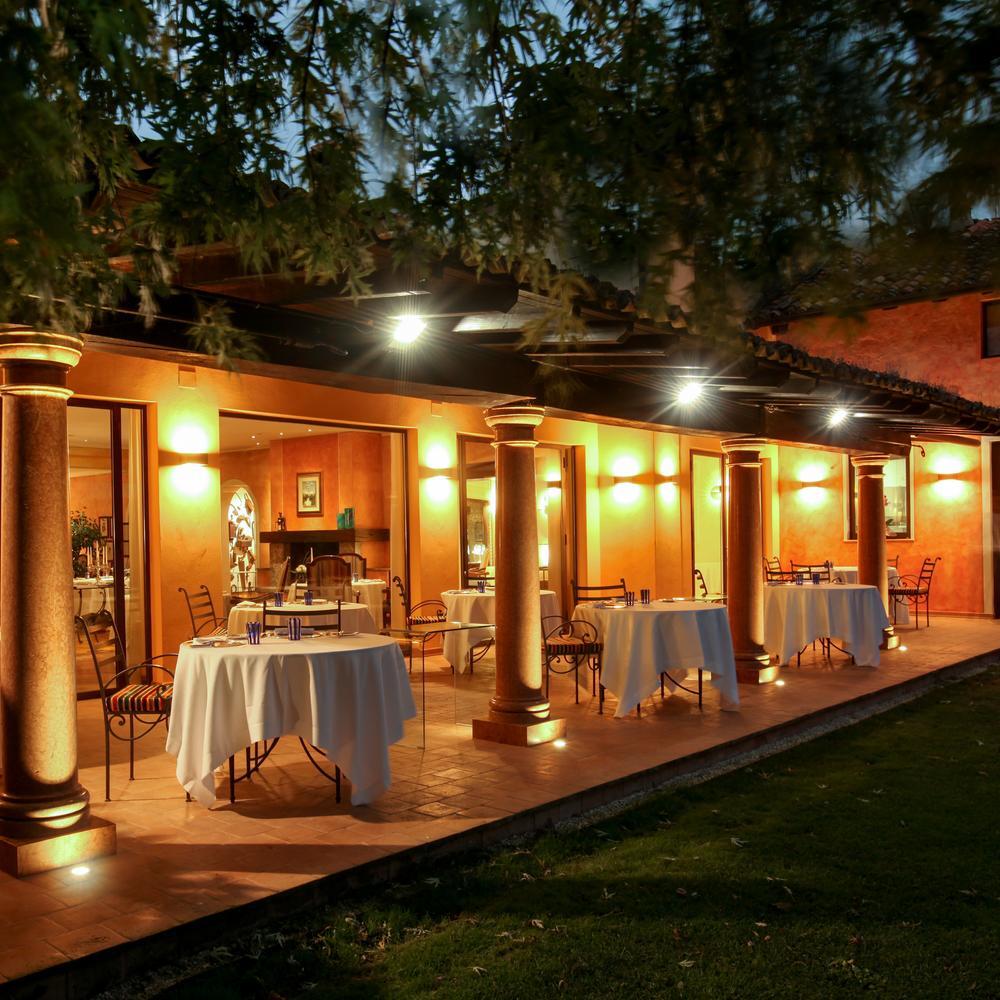 Location: Canneto sull'Oglio, Lombardy
"The Fisherman's Place," Ristorante Dal Pescatore Santini is a Michelin restaurant that has built its name on its fish dishes, many centered on freshwater fish from the River Po. Holding its three Michelin stars since 1996, Dal Pescatore is run by the Santini family, with Nadia as its chef. Located in a tiny village that has a fairytale-like feel, this family restaurant features fantastical dishes like Terrina with Lobster, Caviar Oscietra Royal and Extra-Virgin Olive Oil of Tuscany; Risotto with peas, sweet herbs, tuna roe and black bread with herbs; and Grilled Eel with green Chicory from the vegetable garden.
Location: Milan, Lombardy
Milan's only restaurant with three Michelin stars (as of this writing) is Enrico Bartolini al Mudec is a Michelin-starred restaurant that offers modern Italian cuisine in a stylish setting. One of the most prolific of Italy's award-winning chefs, Bartolini commands several Michelin stars across multiple restaurants across Italy. But Mudec, with dishes like spaghettone with smoked eel and baby squid, is the flagship.
Location: Orta San Giulio, Lombardy
Last but not least in the list of top restaurants in northern Italy is Villa Crespi, which earned its third Michelin star in 2022. Helmed by Antonino Cannavacciuolo, a famed Neopolitan chef known as being a judge on Master Chef Italia, the Michelin-starred restaurant is located in a beautiful 19th-century Relaix & Chateaux villa hotel.
Central Italy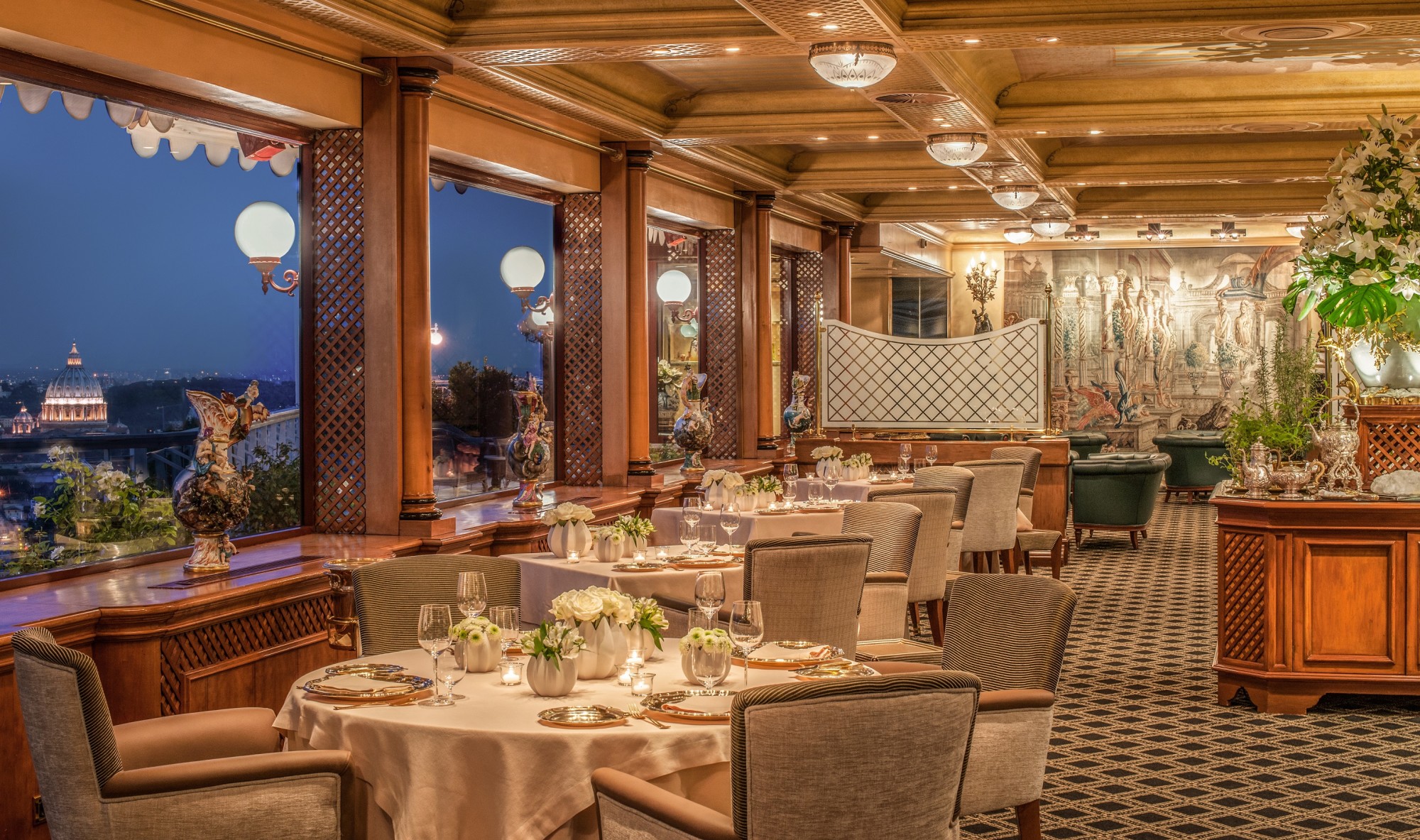 Location: Rome, Lazio
La Pergola is Rome's only 3-star Michelin restaurant (though the city has a number of other Michelin 1- and 2-stars). Set inside the Rome Cavalieri (a Waldorf Astoria hotel), La Pergola is run by Chef Heinz Beck, whose culinary mastery shines through innovative dishes that reflect both his German background and Italian/Roman ingredients. Some menu items here include deep-fried zucchini flower with caviar on shellfish and saffron consommé, pigeon with honey, propolis and pollen, and Marinated Valdostan beef in mountain pine on acorns and borage.
Tip: Rome Cavalieri is a favorite hotel for its seclusion and elegant gardens and pool. Book a stay here to increase your chances of running into celebrities at breakfast (such as what happened in the meet-cute between Serena Williams and Alexis Ohanian). You wouldn't have to dine at La Pergola every night—unless you wanted to.
Location: Senigallia, Marche
Overlooking the Adriatic Sea in Senigallia, Uliassi is named for and run by Chef Mauro Uliassi. Featuring dishes like raw amberjack "a la puttanesca" and the regional specialty Anconetana fish soup, Uliassi is a reason alone to visit one of Italy's lesser-known but feature-packed regions—Marche.
Enoteca Pinchiorri
Location: Florence, Tuscany
Situated in the heart of Florence, Enoteca Pinchiorri has been a beacon of fine dining since 1972 and earned its first Michelin 3-star rating in 1993. Owner and chef Annie Féolde's refined cuisine, paired with an extraordinary wine collection, creates an indulgent sensory experience that celebrates Tuscan gastronomy and culture. Some tasting menu items at Enoteca Pinchiorri include capellini cooked in porcini mushrooms broth, saffron cream, and sautéed snails with herbs, fresh peas, slightly spicy avocado, coconut sauce, and green tea. The restaurant also has an extensive wine list, with over 10,000 bottles from all over the world.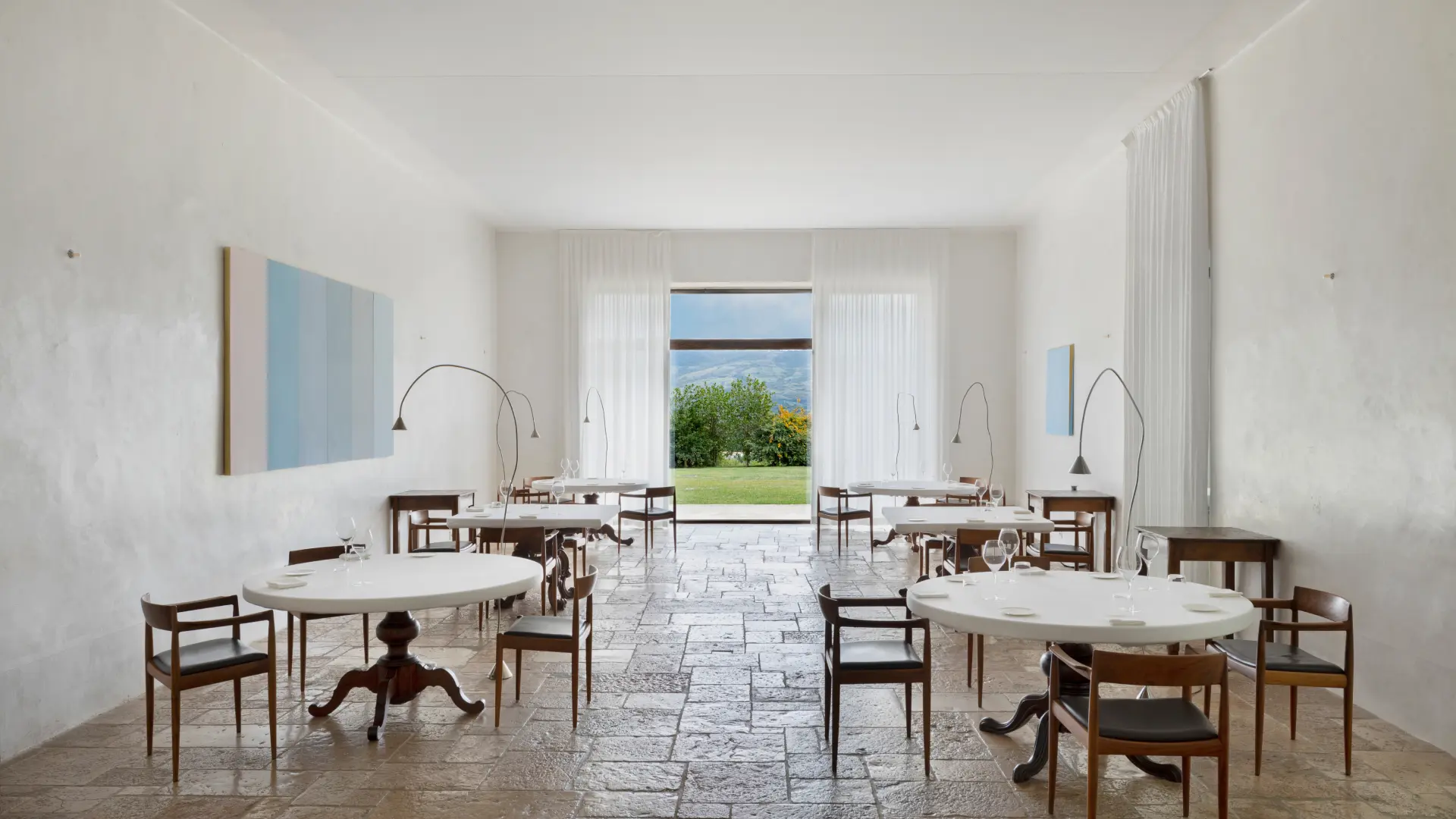 Location: Castel di Sangro, Abruzzo
The capolavoro of self-taught Abruzzese chef Niko Romito, Reale is a grand dining experience inside a 16th-century monastery in the chef's native village. Romito's modern Italian cuisine focuses on sustainability with many ingredients gathered from the mountains around this rugged part of Italy. Reale earned its third Michelin star in 2014 and you can combine a world-class meal here with a stay at the Casadonna hotel, run by Romito's daughter.
Tip: Want to try the flavor combinations dreamed up by Niko Romito but can't make it to Abruzzo (or afford Michelin 3-star prices)? Check out Spazio Niko Romito, which has branches in Milan and Rome.
Sources: Michelin